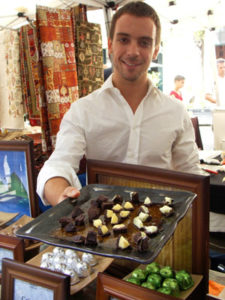 In 1998 Daniel began making chocolates based on traditional family recipes in his native Brazil. Old family recipes and distinctive Brazilian desserts inspired him to make heavenly chocolates that are unlike any other.
After moving to Sao Paulo from the countryside to study his Degree, Daniel continued fulfilling his dream of crafting his chocolate specialties and began selling them in the big city.
In 2005 Daniel moved to Australia. In Sydney, Daniel saw the opportunity to introduce a new audience to these heavenly chocolate treats he grew up with. Like his rich creamy caramel and chocolate coated strawberries, mouthwateringly good flavours encased in the best quality chocolate that reminded him of home
You too now have the chance to experience the sweeter side of Brazil, those family recipes that he learned and you will love. Heavenly chocolates which embody the essence of the Brazilian Carnival, with all its decadence and celebration of life, happiness and love.